Latin Music by "Carlos Herrera" (Acoustic Guitarist/vocalist)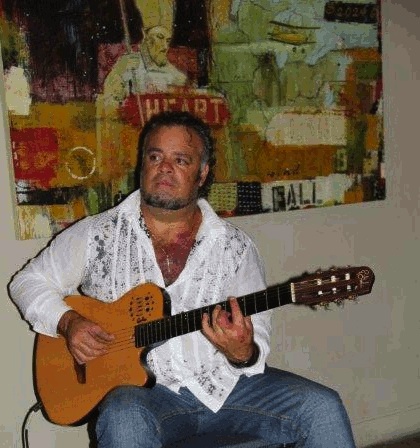 Herrera features Latin Music encompassing diverse styles ranging from its colonial roots to popular influences, with emphasis on music from Latin America.  Carlos is noted for his guitar music and vocals but, more for his improvisations and his uncanny ability to extemporize. Mr. Herrera hales from Costa Rica where he began his music career at a very early age. After many years playing around Latin America with his band he moved to The United States where he now resides in Sonoma Valley. Carlos now plays solo and with his band at Wineries, Weddings and private functions.
Carlos plays styles of Latin rhythms consisting of Rumba, Bossa, Boleros, Salsa, Merengue and a blend of Cuban rhythms.
When The Carlos Herrera Band plays everyone is on the dance floor. Carlos has many different venues that he fulfills for music. He does many wedding ceremonies which he plays classical, traditional & Spanish ballads which work beautifully for ceremonies.
Music venues can consist of the following options:
Carlos = Solo on acoustic guitar.
Duo = Guitar, Bass guitar or percussion.
Trio = Carlos, Bass & percussion.
Band = Guitarist (2), Bass, percussion (2).
Contact Information:
Carlos Herrera
carlos@carlosherreraband.com
707-217-7043